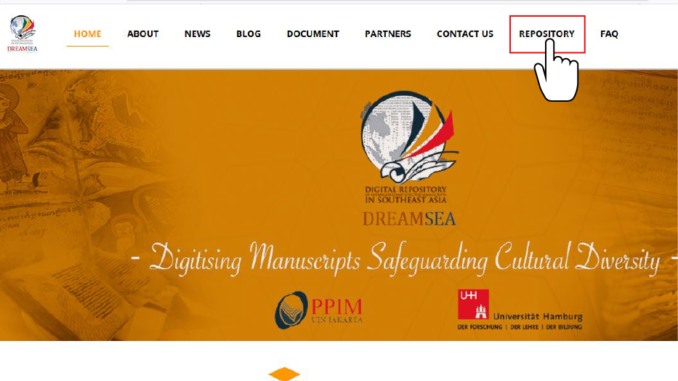 At present, the world is facing a global pandemic due to the spread of the Coronavirus (Covid-19). Herewith we express our deep concern and hope that this situation will end soon.
For the time being, for safety reasons, we have decided to stop sending out missions for the preservation and digitization of manuscripts throughout the Southeast Asian region. This policy shall come into force on 26 March 2020 and will last until normal conditions have returned.
Nevertheless, we keep access open to our collections that have already been put online. At present, 20,129 images with a high-quality resolution of 593 digital manuscripts can be consulted for free.
You can explore these digitized manuscripts by visiting our web repository by taking the follow steps.
1. Visit https://dreamsea.co, click REPOSITORY
2. Choose "Manuscripts"
3. Choose "Country", "City (Province)" and "Collection (owner)". You can adjust the other option as needed.
4. Choose the link of the manuscript code, then click.
We hope you enjoy the high-resolution manuscript images.